When we talk about Tecnifibre, we are not talking about just any brand. We are talking about one of the most prestigious brands in the world of tennis and squash.
With French origins, it is known worldwide for its work in racket sports, which has positioned it as a reference in terms of quality standards. A clear example of this are the great players who wear its products, such as Daniil Medvedev or Iga Swiatek, among others.
However, in padel they have not yet made the leap that would take them to the top. Even so, they are growing at a very high rate and it is only a matter of time before they establish themselves as one of the most popular brands for all players.
Quality is not a problem, as we have seen in other articles about Tecnifibre, they have very high performance products. In fact, more and more professionals are trusting in the French firm. First it was Ben Tison, best player in France, but the next ones have been Gonzalo Alfonso and Fede Chiostri.
The former one of the best couples of APT, now called A1, has taken that step and there are already several tournaments that have competed with their new rackets. Some Spanish professionals have also joined a project that is looking better and better.
A few months ago we discussed the Wall Breaker range, a series of products that came as the big bet of the French brand in 2022. The great success has led Tecnifibre to accompany these rackets with others of a different style.
The Wall Master range comes as a breath of fresh air to the range of possibilities offered by the French firm. If with Wall Breaker we had the perfect balance between power and durability, with this new range we will be able to control all aspects of the game.
Wall Master: comfort at the service of the player
We are always talking about power and shots, but the most important thing in padel is precision. In a sport that consists of knowing how to use your head to hit the right shot at every moment. That's why Tecnifibre wants to offer the player a product with which to dominate every aspect of the match with maximum precision.
The variety of threats is one of the great virtues of the best players and thanks to the stability of these Wall Masters, any stroke will seem easy. These are very versatile rackets that want to take the control products market by storm and become one of the best.
Wall Master ONE
Everything in life has a beginning and any time is a good time to get started in padel. This Wall Master One is designed for beginners who want to perfect their technique with a racket that will help them improve in a more comfortable way.
Many times we want to fly before we walk and learn how to finish before everything else. But for those first steps, this Wall Master will be the best ally. Thanks to its round shape and its design with comfort in mind, the racket will provide the best control.
It has a fibreglass face combined with graphite and high density EVA rubber to give you extra power on every shot. That great ball output will help every ball to pick up speed with little effort. An elegant and ideal racket to start and to improve quickly.
Wall Master 355
If there is a word that defines this racket, it is speed. It is designed for players a little more common than the previous one, but it is also very versatile and will give great performance to both experts and beginners. All thanks to its features, which make it simple and manageable.
For starters, it has a rounded shape that makes it easy to move the head. However, it also has good power thanks to the materials of its face (100% graphite) and rubber (high density EVA). However, the quality for which it excels in this range is its weight. With 355g, it is the lightest of all, making it very manoeuvrable for any shot. An excellent choice for any player, who will feel how this racket adapts to their game. A mix of speed and precision that allows you to win any match with accurate shots.
Wall Master 360
To play padel you don't just need strength and technique, you also need to be intelligent. In this sport you have to know how to choose and this racket is a clear example of that.
We find a product that is still very manageable, 360g, but also has a plus of power. You have to know that balance is often the virtue and this Wall Master represents the combination of manageability, control and dynamism.
Its shape, round, allows us to have a great control in each stroke. Its materials, high density EVA rubber and graphite faces also allow us to surprise our opponents with powerful shots. Finally, stability and resistance that will allow us to feel very comfortable from the first moment and that the product will withstand any mishap.
In addition, although it is a matter of taste, this is a very elegant design with a predominance of white. It also has details in black, red and blue to give the necessary contrast to a very nice racket.
Wall Master 365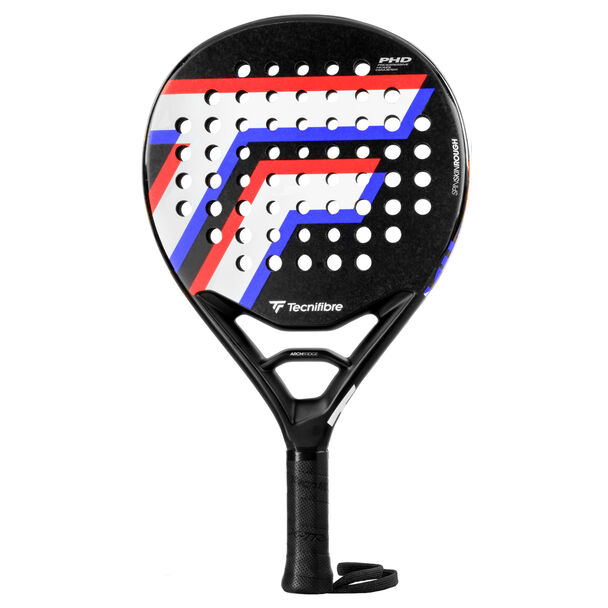 With this Wall Master 365 we start to get very serious. We are talking about a very high performance racket designed for regular players who can make the most of the qualities of this product.
Its weight of 365g makes it very manageable, but without losing power. It is a racket with which to feel very comfortable from the first moment, to put the ball in the right place in every situation. Thanks to its carbon fibre, soft rubber and different hole diameters, adapting to it will be easy.
Its round shape makes it ideal for handling the game through precise shots thanks also to its rough faces. It has advanced technologies that improve its performance, making it an ideal product to compete at the highest level.
Wall Master 370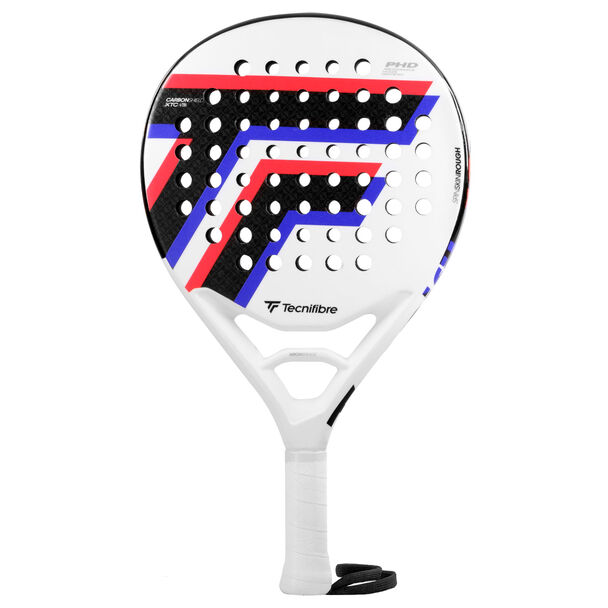 If the Wall Breaker 375 was the jewel in the crown when it comes to power, this is the jewel in the crown when it comes to precision and comfort. The Wall Master 370 is a professional racket with which you can get the most out of your game.
It has the best materials and the best technologies to make this an outstanding racket. All the prestige and quality of the Tecnifibre brand is reflected in this top of the range product, designed for high performance players looking for an ideal racket to control the match. However, the versatility of this product is its strong point, as it is a control racket that does not skimp on power.
The work on this 370 version is noticeable at first glance, when we look at the roughness of the faces, the bridge or the different diameters of the holes. Every corner has been worked on to give the user a quality that is up to Tecnifibre's standards.
However, it also stands out for what you can't see. Like the TEI carbon fibre material that composes it or the X-TOP technology to increase durability. The Wall Master 370 wants to compete at the top of the rackets market and position itself as a reference within the control products.
If you want to know more about the Wall Master 370, have a look in this review.
Technologies and features of the range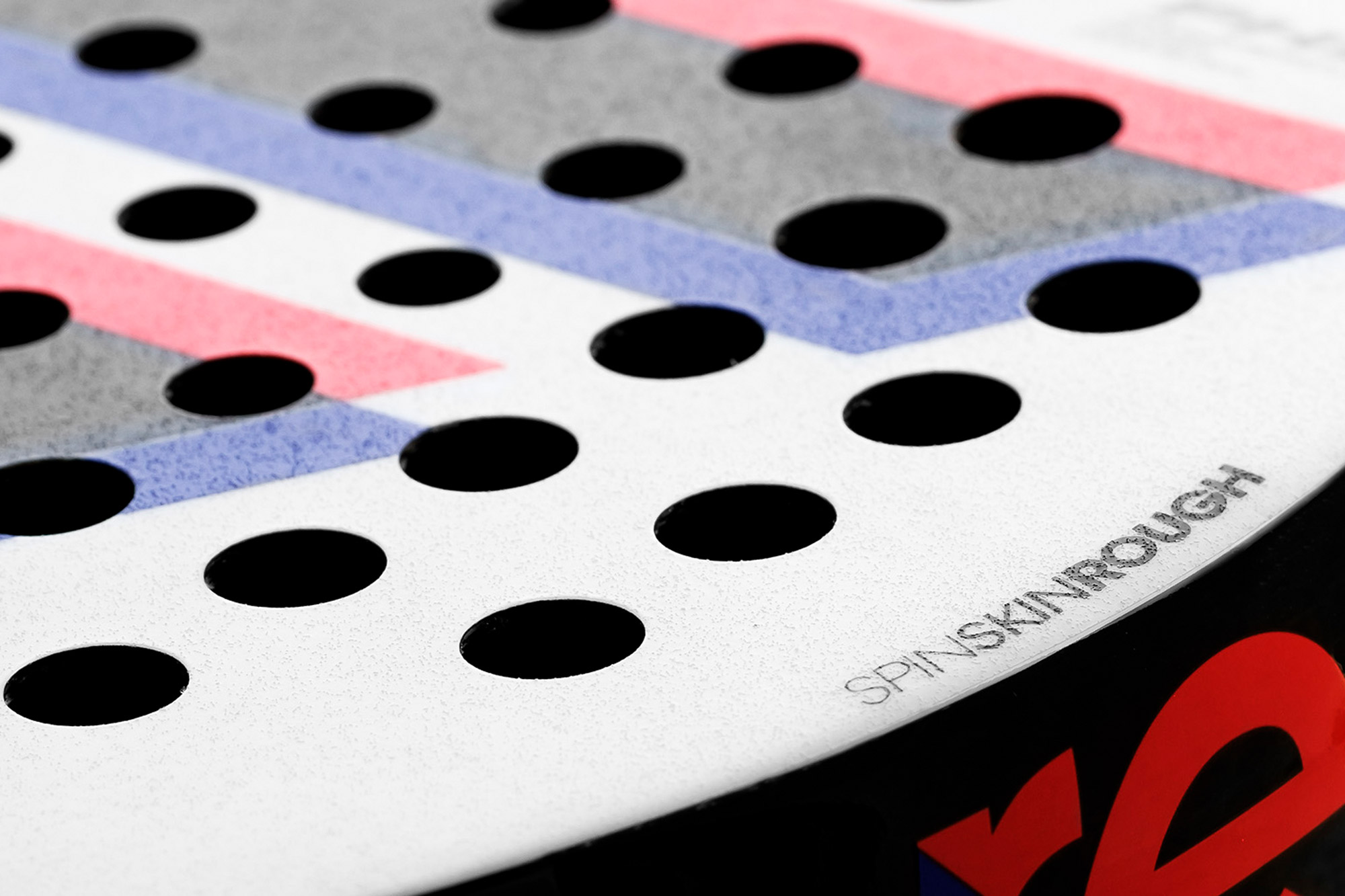 As it could not be otherwise, these rackets have very advanced technologies aimed at getting the best possible performance. Thus, the durability and quality of these Wall Master will be increased thanks to the work of Tecnifibre.
To begin with, we must highlight the drilling of the holes, which has been done using the PHD (Progressive Holes Diameter) plane. There are 3 different diameters, the larger ones being the ones farther away from the centre of the racket to increase the sweet spot and reduce errors in off-centre hits.
We also have a Spin Skin Rough on the faces, a spectacular rough. It is a grainy style so that the fibres of the ball come into contact with the face of the racket and get as much spin as possible.
It also has XTC carbon fibres from TEI, the latest in materials, which makes the reactivity of the core excellent and enhances the comfort of the shot. This is also achieved with the Arch Bridge, which increases stability.
Finally, the X-TOP technology, which improves the durability of the product. Because having a professional quality racket is not much use if it breaks at the first impact. Therefore, this mixture of aramid fibers, coated with a PTFE treatment to reduce abrasion and improve resistance.
Price and where to buy
The 5 padel rackets that make up the Wall Master range are on sale on the Tecnifibre website and have the following prices:
| | |
| --- | --- |
| Racket | Price |
| 370 | 181,50 € |
| 365 | 219,99 € |
| 360 | 159,99 € |
| 355 | 129,99 € |
| One | 99,99 € |