We have controversy again on the World Padel Tour! After what happened in Chile, with that refereeing error that could have cost Tapia and Coello the title, we have a new episode, in this case at the Brussels Open. Alex Ruiz's watch, the protagonist of this story.
What happened to Álex Ruiz's watch?
Let's start from the exact moment when the play takes place. The scoreboard reflected a 6-1 and 5-4 with a golden point at stake in the quarter final match of the Brussels Open that pitted Momo Gonzalez and Sanyo Gutierrez against Alex Ruiz and Juan Tello.
On that golden point, Sanyo ended up taking a ball by four meters and everything seemed to indicate that the match was over. However, Ruiz and Tello raise their hands and ask for a video review. The reason? Alex Ruiz's watch falls to the ground just before the player from San Luis sends the ball out of the court.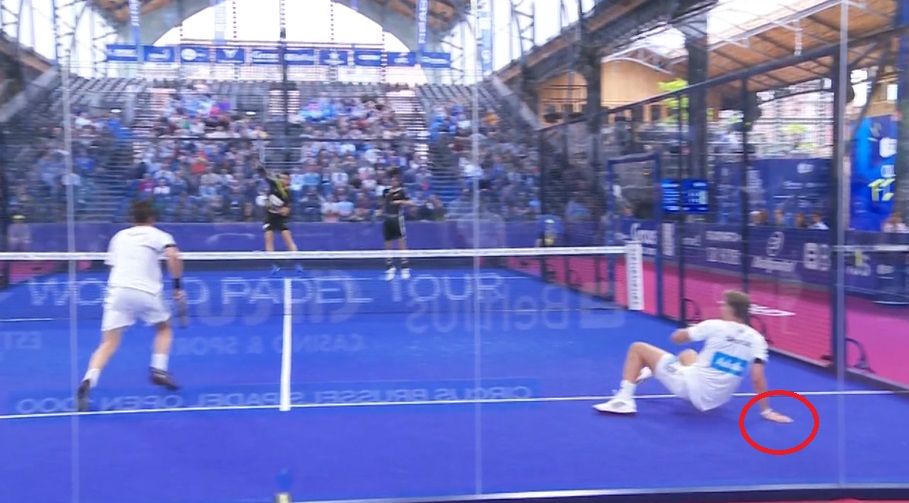 After a couple of minutes of review, the referee decides to replay the point. Sanyo's ball hadn't left the court before Alex Ruiz's clock fell to the mat.
Once again, there was the suspense of knowing if this decision could affect the result of the match, and at times it did. Sanyo and Momo would lose the replay of that golden point and would have to win the match again in the sudden death of that set.
If you haven't seen the video, we share with you the part of the match summary where you can see it for your own eyes:
What do the rules say?
According to Rule 10 of the Rules, a point shall be replayed when "any body foreign to the match being played invades the court space".
Should common sense rule the game?
As Cata Tenorio commented, it is true that the fall of Alex Ruiz's clock has no influence on the point, which was already decided for Sanyo and Momo.
If it had happened in the middle of a point there would have been no problem in repeating it. But the situation was so bizarre that it happened just when Sanyo was winning the point that gave him the victory in the match.
That said, it is not a question of belittling, far from it, the player from Malaga, who had the rules in his hand to request a review of the play.